Savitar has developed world-class tennis programs at a number of the best locations in Singapore and Malaysia, including Savitar Tennis Center, leading private clubs, five-star hotels, and top schools.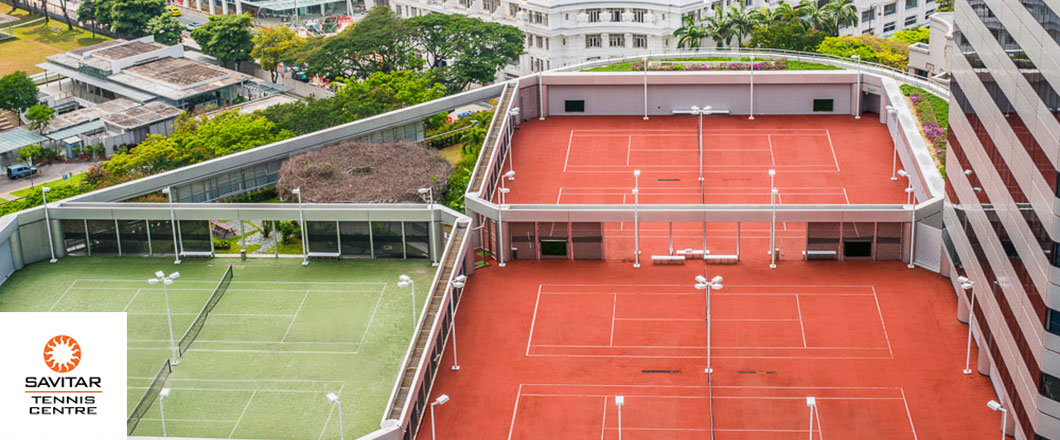 Savitar Tennis Centre at Swissotel, The Stamford
Savitar Tennis Centre is a great tennis six court facility located on the 8th floor of the Swissotel, The Stamford. Raffles City Shopping Centre There are four Classic Clay courts and two synthetic grass courts which are all lighted for night play.
This fantastic location is open to the public and we offer something for everyone, including Private Lessons, Junior Programs, Adult Programs, Ladies Team Training, Corporate Workshops, and TennisFit.
Useful location info: To get to the Savitar Tennis Centre, enter the Swissotel, Stamford lobby and take the lift to 8th floor and walk to the tennis courts. Access to tennis courts via Fairmont Hotel is temporarily closed. The Savitar Tennis Centre is situated directly above the Raffles City Shopping Centre and lots of parking is available below.  The City Hall MRT is nearby.
The following courses are available here:

The Damai Spa and Fitness Centre, Grand Hyatt Singapore
Located in the heart of Orchard Road along Scotts Rd The Damai Spa & Fitness Centre at the Grand Hyatt Singapore is the perfect downtown location for tennis. The club has two newly renovated synthetic grass courts and lights for evening play. Our Director of Tennis, James White, has a wealth of international experience and provides a range of private lessons, group lessons, and adult clinics catering to all ages and abilities.
Useful location info: Please enter the Grand Hyatt Singapore, take the lift to the 5th floor and check-in at the Damai Spa and Fitness reception.

Shangri La location on Orange Grove Road
Set amidst 15 acres of lush greenery, Shangri-La Hotel, Singapore, is a place like no other. Consistently voted as one of the best hotels in the world. With three floodlit tennis courts Savitar offers both private and group lessons at the wonderful Shangri La location on Orange Grove Road.

Singapore American School
The Singapore American school has five newly renovated tennis courts on the rooftop which is a great location for training and events.  Savitar works closely with the school for team training and also runs a comprehensive Pay and Play program of after-school tennis, camps, and private lessons.
For enquiries, please email: [email protected]

United World College - East
Savitar runs an extensive after-school tennis programs at UWCSEA East. This includes school team training, off-season training, group programs for beginner through to advanced, holiday camps at Savitar Tennis Centre, overseas tours and private coaching. UWCSEA East Tennis programs are conducted at Savitar Tennis Centre.

Marlborough College Malaysia
Marlborough College Malaysia (MCM) is a fully coeducational, independent boarding and day school. The school is situated on a secure 90-acre estate on the southern tip of Malaysia in Iskandar, just across the second causeway from Singapore. MCM has 5 tennis courts and a full-time team Savitar Tennis Professionals based at the school.  A full range of tennis programs are offered to Preparatory School and Senior School students as well as staff.

laguna national golf & country club
A prominent club in the local and regional golf scene since its inauguration in 1993, Laguna National is one of Singapore's premier golf and country clubs. Laguna National boasts two 18-hole championship courses that have won prestigious accolades and hosted international championships, including the European Tour's Singapore Masters, the Korean LPGA's ADT Caps Tour Championship and European and Asian Tour co-sanctioned event, The Championship at Laguna National.
For any enquiries, contact Director of Tennis, David Edgar [email protected]