Savitar Pte Ltd was founded in 1999 with the mission to provide the best tennis coaching and events in Singapore, delivering well-structured, customized tennis programs and events that foster consistent improvement in skills, provide matchplay opportunities,  and enhance the  enjoyment of the great game of tennis. Savitar has since developed world-class tennis programs at a number of the best locations in Singapore, including fine clubs, leading hotels, and top schools. Our tennis programs cater to all ages and abilities, ranging from 10 and under programs using customized equipment to junior elite training and tennis camps. We also provide ladies clinics, men's tennis, corporate workshops, and team training while managing a variety of competitive and social events.  We manage the Junior Team Tennis League (JTTL) in Singapore - this highly successful league for players aged 17 and under has grown to over 100 teams and 600+ participants.  We believe in increasing participation in tennis and creating long-term partnerships with our clients.
In 2009, Savitar established the Junior Team Tennis League (JTTL) to provide junior players with the opportunity to gain valuable match play experience, improve competitive performance, and develop life skills such as teamwork and sportsmanship.  With over 600 participants and 100+ teams competing, the JTTL continues to grow rapidly.
In 2010, JTT Mini (now Grand Slam Mini was launched to offer an exciting tennis competition for 5 – 8 year olds using mini tennis nets and lower compression balls, improving young players' technique, performance, and enjoyment.  JTT is sanctioned by the Singapore Tennis Association and supported by ActiveSG and we expect to develop additional events in future to further enhance match play opportunities for junior players in Singapore.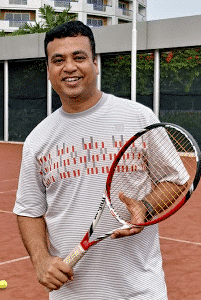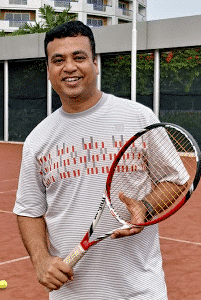 Amit Baghel, Senior Finance and HR Manager  is an experienced professional with a demonstrated history of working in the tennis and finance industry. Skilled in Coaching, Event Management, Finance and Sports Marketing. Amit holds a Masters degree in Business Administration from University of Wales, MDIS Singapore. Amit brings more than ten years of playing and coaching experience at the junior and adult level. Amit holds coaching certifications with the International Tennis Federation (ITF) level I & II, the United States Professional Tennis Registry (USPTR) and has attended many international tennis workshops. In addition to tennis, he also earned a certification in Yoga & Sports Injuries. With his unique blend of skills Amit is handling Finance, HR and Operations of Savitar. He is a critical thinker, loves music, and traveling.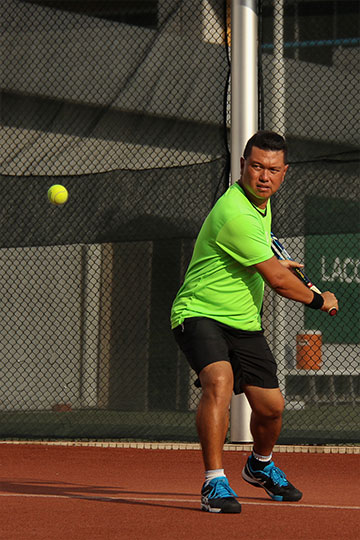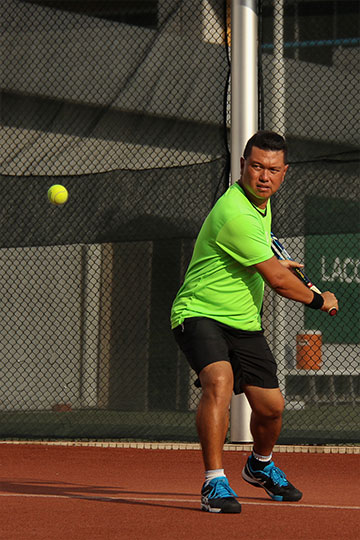 For the past 20 years, the Singaporean-born, Adrian Ng has been a prominent tennis coach with wide-range of experience teaching both kids and adults of all ages and levels. Adrian has been Head Professional at Swiss Club for 13 years. He has also spent time at One Degree 15 and Fairmont Hotel. His qualifications include:
the RPT Europe and International Professional Tennis Director Certification
Estess Athletic University Level 5 Coaches Certification
Professional Tennis Coaches Association Certificate of Recognition regarding RPT Education Program
International Coaches Institute Tennis Professional Certification
Adrian is the newly appointed Head Tennis Professional at Dulwich College Singapore as well as Head Professional at the Willow Stream Spa Tennis Centre.
Savitar's corporate office team has over 100 years of combined tennis coaching, event implementation, and sports management experience.  We are proud of our entrepreneurial culture and successful track record of launching exciting new tennis programs and events to boost tennis participation and playing levels in Singapore since 1999.  With full-time managerial staff in the areas of coaching, event implementation, management, marketing, finance, and administration, Savitar continues to be a market leader.  We work hand-in-hand with our host clubs, schools, and hotels and have developed long-term relationships with ActiveSG, the Singapore Tennis Association and our sponsors to advance the development of tennis in Singapore.
Savitar has an amazing team of international and Singaporean coaches who have a wealth of coaching experience with players of all ages and abilities.  Each coach has an internationally recognized coaching certification and is assigned to our various tennis coaching programs based on their coaching experience and ability.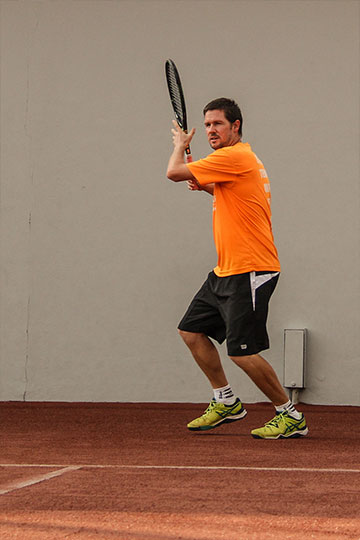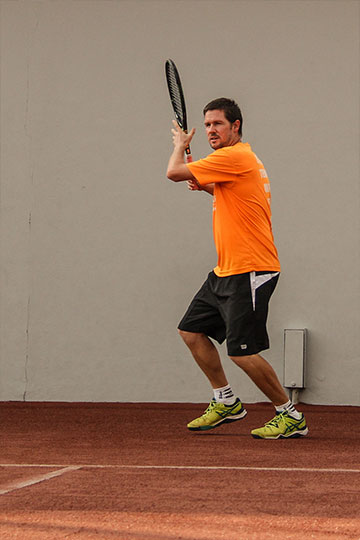 Originally from New Zealand, Adam Branks comes to Singapore with years of tennis experience. Adam was first introduced to the sport at an early age through his family's legacy. Adam's father ran a large tennis school in Auckland and that is where he learned and developed the passion for the sport. At the University of North Carolina, Asheville, Adam continued his on-court successes, playing NCAA Division I college tennis. Adam has coaching experience in the United States, New Zealand, and now working with Savitar at the Swiss Club and Willow Stream Spa Tennis Facility. His other qualifications include:
the RPT Europe and International Professional Tennis Director Certification
Estess Athletic University Level 5 Coaches Certification
Professional Tennis Coaches Association Certificate of Recognition regarding RPT Education Program
International Coaches Institute Tennis Professional Certification
A Vietnamese born Dutch, Jim truly embraces the 'best of both worlds' in his life, including his current positions at Savitar as Director of Tennis/Coach at the Singapore American School.  As of recent, Jim kickstarted the Adult Team Tennis concepts, which consist of Tennis Boot Camp and TGI 
Friday
 Tennis.
Jim's experiences and qualifications include:
7 years competitive KNLTB  tennis in the Netherlands at 9 years
Competed on the NTU Tennis Team during his exchange student time at Nanyang Business  School in Singapore
Played College Tennis in the USA. Made it to the State Championship Doubles in San Diego.
Bachelor of Commerce degree from University of Amsterdam
Dutch, Vietnamese and English speaking
Certified TRX and Boot Camp trainer
PTR certification and the AATC accreditation level 1 and 2
Extensive Regional Business Development Management experience for previous jobs
Social Media Expert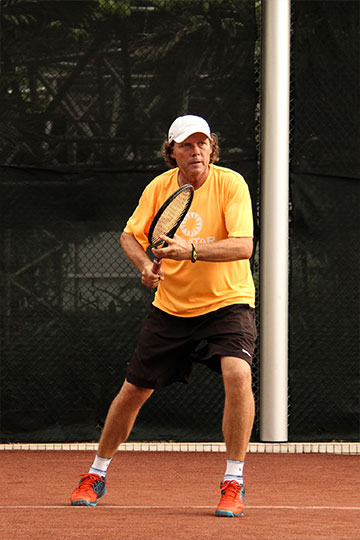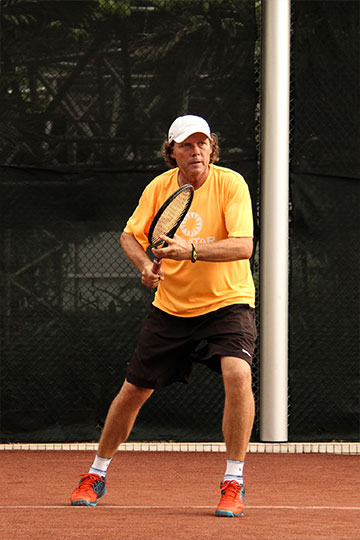 An Australian and Dutch citizen, Frank Bruinsma has over 25-years of tennis playing and coaching experience. Frank has coached all over the world, including Australia, United States, and nowhere in Singapore. For the past 14-years, Frank has worked with and for some of the most prestigious private clubs in Singapore, which include: the Hollandse Club, the Swiss Club, the Pines Club, the Amrita Spa Tennis Club, and the Tanglin Club. Frank's strong tennis background and knowledge has allowed him to develop lasting relationships with the club members and students here in Singapore. He has also developed strong junior tennis and adult programs throughout the Singapore region. He holds professional tennis certifications from the Professional Tennis Registry (PTR), Tennis Australia (TCA), Singapore Tennis Association (STA), and International Tennis Federation (level III). Frank is the Managing Director of Savitar Pte Ltd.
FINALS DAY: MAGIC BUS
JTT sponsors a sausage sizzle and drinks stall during the finals day at the Junior Team Tennis League, and all proceeds go to the Magic Bus Global Concerns group. Magic Bus Global Concern supports the Magic Bus Foundation, which aims to provide underprivileged children in the most rural areas of India a better life by providing an education based on building physical, social and personal skills mainly by focusing on aspects of sports.
SPECIAL TENNIS
Savitar runs a Special Tennis program alongside grade 11 Students at UWCSEA who are the "buddy coaches". We provide students from Genesis School for Special Education with tennis coaching once per week in 6 week workshops. It's an amazing opportunity for the Genesis Students to be exposed to the benefits of sport and build confidence and skills and also provides grade 11 students at UWCSEA with an opportunity to improve as coaches and enjoy seeing the positive contribution they can make to their students' development.
Savitar hires top tennis teaching professionals to staff our tennis programs at various high-end hotels, private clubs, and schools throughout Singapore.
Asssistant Tennis Professional
The Assistant Tennis Professional reports to the Director of Tennis at the club or hotel location at which they are assigned. He or she will be responsible for conducting private tennis lessons as well as group programs for junior players and adults. In addition, the Assistant Tennis Professional will assist the Director of Tennis with lesson planning, marketing, and event management as required. They will also receive ongoing training and the opportunity to develop his/her tennis career. Positions are available immediately. Singaporeans or PRs ONLY.  Scroll down for more info
TENNIS EVENT COORDINATOR
If your personality is all about fun and games and love young children, we want you to be our Tennis Event Coordinator! The applicant should be a tennis enthusiast with good understanding of the game. Competent and comfortable in managing kids/young adults of age groups from 5 to 17 years old. Well organized and excellent time management skills. Good communication skills and works well in a team
For a complete job description or to make an enquiry please email your cover letter and CV to [email protected].